Building work starts on new sustainable town houses at former York city centre pub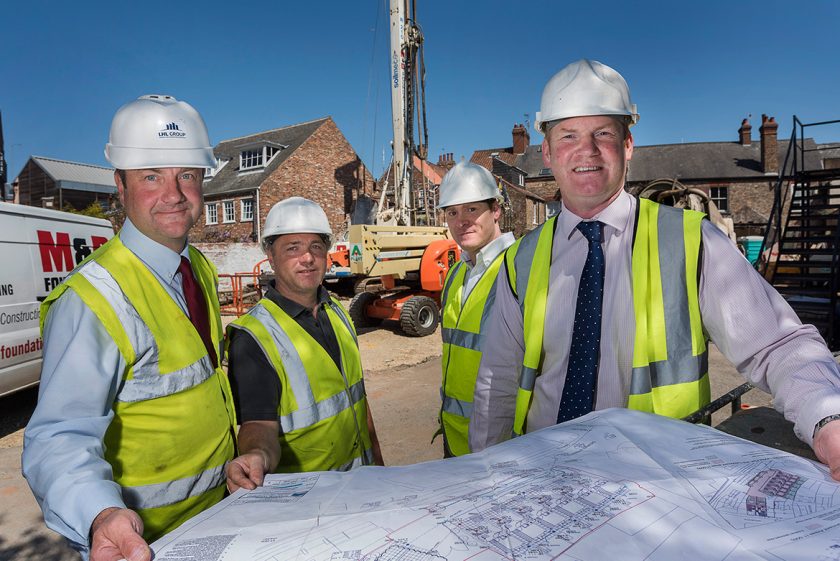 Building work is underway to redevelop a former York city centre public house and its car park into modern sustainable housing.
Six modern town houses are being built on the car park of the former Lord Nelson public house, Walmgate, which closed down more than 30 years ago. The former Victorian pub facade is being retained and the property turned into two traditional terraced homes.
The £4.5m scheme on the run-down, third-of-an acre site is being carried out by award-winning York property developer, Northminster Ltd, after designs by COG Architecture, Leeds, were backed by City of York planners.
Woodhouse-Barry (Construction) Ltd, Sheriff Hutton, has been appointed main contractor for the scheme, which is expected to finish by the end of the year, and York-based property and construction consultants, LHL Group, will manage the construction for Northminster Ltd.
All the six town houses being built in the car park will meet latest sustainability standards and hope to achieve an A rating for the energy performance certificate. Features will include roof-mounted solar-thermal heating and roof terraces giving views over the city centre. There will also be private parking with car recharging points and gardens for each house.
Inside, the four-storey family homes will have ground floor wcs and shower rooms, a sizeable utility room and a flexible space which could be used as a garden room or study which will open onto a private patio and garden area.
The first floor will have an open-plan kitchen, dining room and living room opening onto a balcony, while the second floor will have a master bedroom with en suite bathroom and a second bedroom with separate house bathroom. The top floor will have a master suite which opens onto a spacious roof terrace.
The 3,200 sq ft former Lord Nelson public house will be divided into two terraced homes, one of 1,300 sq ft and the other of 1,900 sq ft.
Northminster Ltd managing director, George Burgess, says: "As well as being sustainable in design and construction, the homes are in the city centre, reducing dependence on transport and will have amenities such as gardens, roof terraces, and car parking which are rarely available within the city walls.
"The new homes will appeal to families who want to live and work in the city centre or those down-sizing from nearby villages or larger townhouses who are seeking the benefits of city living."
Woodhouse-Barry (Construction), which works with a range of properties including listed buildings, community centres and social housing won a national LABC (Local Authority Building Control) award last year for Best Change of Use of an Existing Building or Conversion for The Old Coach House, East Rounton, which it refurbished as four apartments.
Woodhouse-Barry (Construction Ltd) site manager, Graham MacDonald, says: "We are pleased to be on site for this modern, vibrant project with all the challenges of developing a dormant brownfield site and the refurbishment of the former pub into new living spaces."
Northminster Ltd also redeveloped a former 1920s car showroom and retail space at 34 Piccadilly into 10 apartments which won a York Design Awards last year.