Top RICS homes award for Clementhorpe Maltings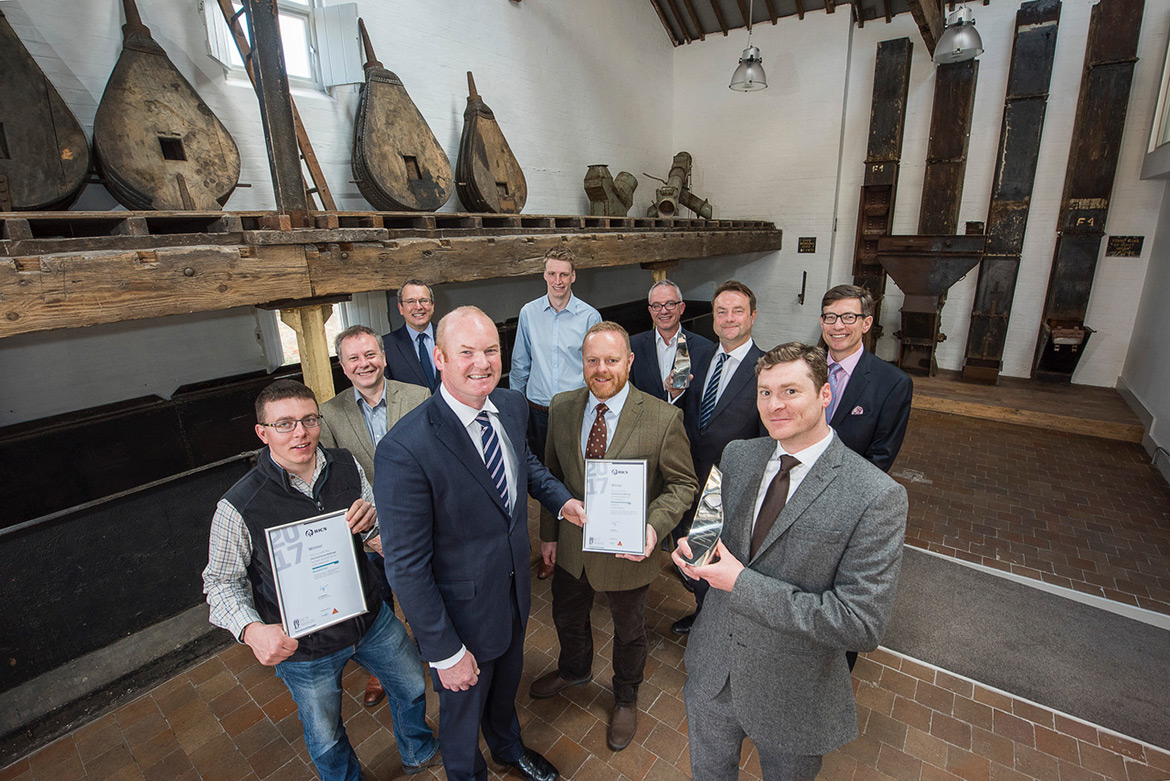 A scheme to turn part of Yorkshire's brewing history into six high-quality townhouses has won two major awards.
Clementhorpe Maltings, a £2.1m scheme by York property developer Northminster Ltd, managed by property and construction specialists, The LHL Group, York, has won the residential and building conservation prizes in the RICS Awards 2017 Yorkshire & Humber.
A team led by Northminster Ltd and LHL Group redeveloped the Grade II Listed former malting house, which was deteriorating after lying empty for half a century, into townhouses retaining many of the original features and with a dedicated entrance area for displaying many of the old maltings artefacts which have also been conserved.
Northminster Ltd managing director, George Burgess, says: "This was an extremely complex scheme because the Grade II listing meant we had to adapt our design to work within the constraints of the original structure but we knew we could do a good job and the prospect of working with such an unusual and historic building appealed to us.
"Turning the property into wonderful characterful homes was a team effort by all those involved, especially LHL Group who have done such a fantastic job in managing the construction in a trouble-free manner for us. It was very satisfying to give this historic property a new lease of life as distinctive, characterful homes and winning this award is a tribute to all those involved including City of York Council which shared our enthusiasm and design aspirations and backed our plans."
LHL Group director, Richard Hampshire, who oversaw the nine-month long development for Northminster Ltd, says: "Clementhorpe Maltings was a highly-complex but thoroughly enjoyable scheme as Northminster Ltd had the vision and determination to create something special with a very high internal specification. This is the first time we have supported the company but it has been very rewarding professionally to be part of a first-rate team working on a very rare and unusual type of property."
In reaching their decision the RICS award judges said: "The maltings is a very imaginative and clever conversion that has delivered high-quality residential accommodation whilst retaining and preserving the character of an historic building. The preservation of historic features within the common parts, innovative design and engineering along with the overall quality of the development combine to deliver a unique and very desirable residential project."
Tadcaster Tower Brewery Company, which was formed in 1882 with the amalgamation of three local breweries, is known to have used the 10,000 sq ft maltings house from 1895 until the late 1950s.
Five of the three-storey townhouses in the former 19th century, 10,000 sq ft maltings house, close to the popular Bishopthorpe Road, were sold within weeks of completion in January with only one remaining.
Other key members of the Northminster Ltd team were COG Architecture, Leeds; civil and construction engineers, Topping Engineers, Harrogate and Croft Farm Construction while The Association for Industrial Archaeology advised on restoring the artefacts. The houses are being sold by York estate agents, Hudson Moody, Micklegate.