How new £25m York city centre hotel and apartment scheme may look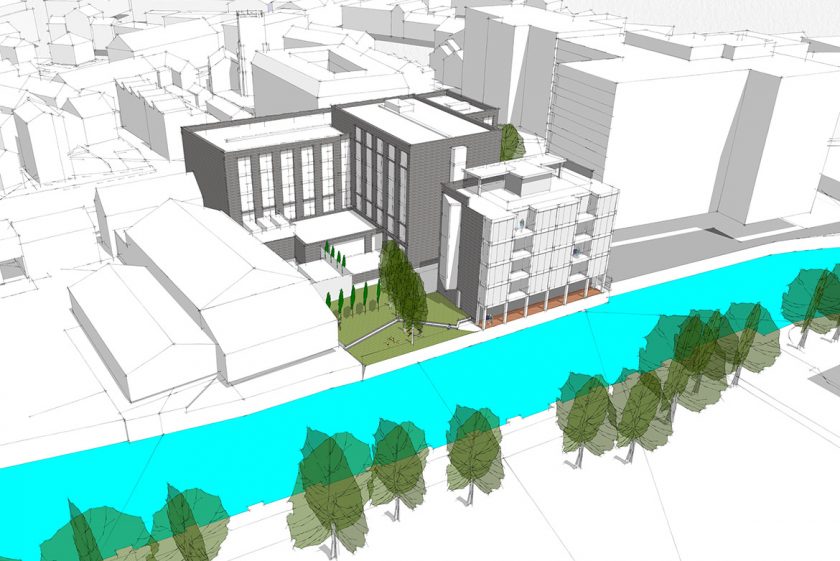 THIS is how a major new £25m hotel and apartments scheme close to York city centre will look if a proposal is backed by City of York planners next year (2017)
Details of the 146-bed hotel and eight apartments scheme in Piccadilly, which also features a terrace and riverside garden with new public areas creating views across the River Foss to the 13th century Cifford's Tower, one of York's best-known historic tourist attractions, are being finalised before York development company, Northminster Ltd, submits a planning application to City of York Council next month (January 2017).
The 50,000 sq ft scheme, comprising 42,000 sq ft for the hotel and around 7,900 of apartments, is known as Piccadilly Riverside and has been developed in two years of pre-planning discussions with City of York planners, the York city architect and Historic England, the public body which looks after England's historic environment.
Piccadilly Riverside is proposed for 46-50 Piccadilly, the site of a former Polar garage which is now an NCP car park and Infinity Motorcycles accessory shop, which has been owned by key figures at Northminster Ltd since 1978 and they believe the proposed scheme could be a catalyst for the long-anticipated regeneration of Piccadilly and historic castle area.
Piccadilly Riverside, designed with COG Architecture, Leeds, first mooted by Northminster Ltd in autumn 2015, is planned to be built from high-quality materials using traditional brick and glass, with construction work starting as soon as possible if planning permission is granted.
The development company, which regenerated 34 Piccadilly, a former 1920s car showroom, into 10 luxury apartments in a £5m scheme which won a York Design Award, says Piccadilly Riverside responds to City of York Council's vision for a proposed new 'southern gateway' to the city centre and that it will increase footfall to contribute towards creating a culturally, socially and economically vibrant area of the city.
Northminster Limited managing director, George Burgess, said: "Piccadilly is the Cinderella of main arterial routes into York city centre. It has a fantastic setting next to the River Foss, with huge potential, but badly needs bringing up to the standard which residents and visitors to the city have a right to expect which is long overdue.
"Our proposed scheme will replace unattractive, run-down buildings with an exciting new scheme which will contribute towards the local economy for tourism, business and 'city living' homes."
The plans for Piccadilly Riverside will be on display for public consultation at the Hilton Hotel, Tower Street, York, between 3pm and 7pm on Wednesday January 25th.
During the last 20 years there has been several failed attempts to upgrade Piccadilly and link it to the other side of the River Foss while other parts of the city centre have been redeveloped.
Wimpey, which built Coppergate shopping centre, wanted to extend its retail scheme to encompass the area bounded by the Clifford's Tower and Piccadilly but couldn't produce a proposal acceptable to local planners. The company eventually sold its interests to national retail developer, Land Securities, which twice failed to bring an acceptable comprehensive development to the area.
Northminster Ltd is currently re-developing the former Lord Nelson public house and car park, Walmgate, as modern sustainable housing.